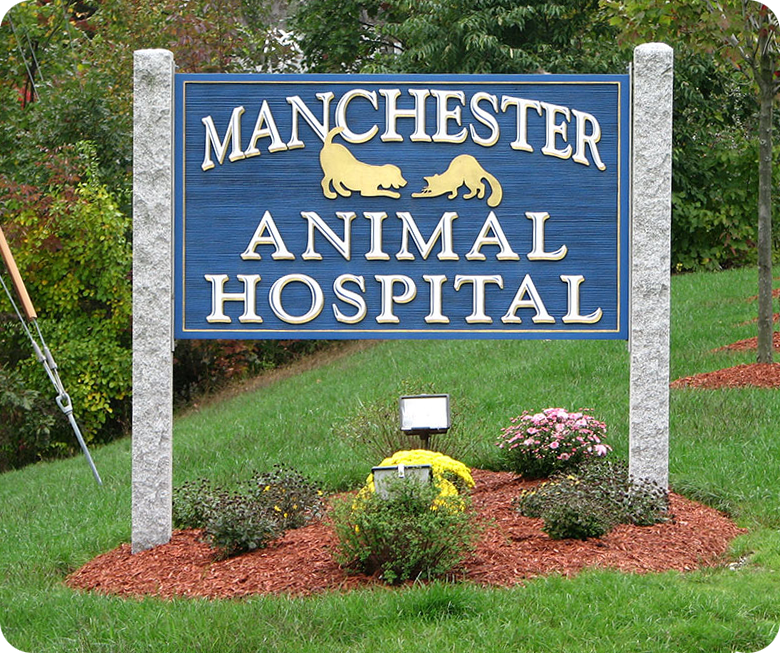 Welcome
Manchester Animal Hospital has served greater Manchester pets and their owners since it was founded in 1992 by Dr. Roy A. Ball. Today it is still proudly privately owned and operated by Dr. Elizabeth Brown and Dr. Corinne Lemay. The veterinarians and staff at Manchester Animal Hospital provide the highest quality of medicine and care for its patients and serve its clientele with the highest level of honesty and compassion. We are committed to building a long-lasting relationship with you and your pets so that we can together promote their health and longevity. We believe strongly in progressive and preventative medicine, through client communication, and fostering comprehensive client education. We are always welcoming new dog and cat patients. Please call our hospital to make an appointment with one of our veterinarians. We look forward to meeting you!
COVID-19 UPDATE
March 18, 2020 Effective immediately we will be restricting traffic in and out of the clinic in an effort to reduce risks and exposures for both our staff and our clients. We will be continuing to see appointments, but our doors will be locked and we will be handling appointments and visitors on a curbside approach. The process will look as follows;
Scheduled appointments:
• We ask that all appointments remain in their car and call when they arrive at their scheduled appointment time. • We will transfer the call to a technician to take a history. • The technician will then come to your car and take your pet into the clinic. We ask that you remain in your car and we will have the Doctor contact you after they perform their physical exam and discuss findings and address any questions or concerns you have. • You will then be transferred to reception to handle payment and then we will bring your pet back out to you.
Prescriptions/Products/Food Refills or pick ups
• Please contact us via email or through our NEW pet portal app (link to this app is on our website) as our phone lines may be very busy with appointments • We will contact you to get payment for the products you need and schedule a pick up time • We ask that you call us when you arrive to pick up your products and we will bring it out to your car. We understand this is all very abnormal and may be a bit uncomfortable; however we are trying to take whatever precautions we can to continue to be here to serve our clients and patients. If your appointment is not of an urgent nature we are happy to reschedule to another time. We also strongly ask that if you have traveled in the last couple weeks, have been in contact with anyone who has, or if you or a family member are feeling ill or under quarantine please call reschedule your appointment. Thank you for your understanding and continued patience as we navigate this uncertain time together. We will continue to update everyone via email, our website and Facebook with any changes.
COVID-19 and your Pet
According to the CDC they "Have not received any reports of pets or other animals becoming sick with COVID-19. Further studies are needed to understand if and how different animals could be affected by COVID-19. Please visit the CDC's website for more information, and as always please call with any questions or concerns you may have.